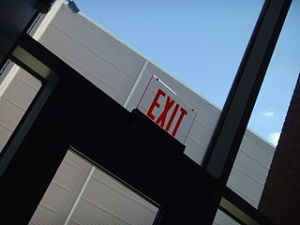 Safety Lighting and Illuminated Exit Signs
Did you know one of the most common citations written by fire code enforcement personnel is in regard to emergency egress lighting?
State and federal laws require owners of buildings that are open to the public to install and maintain safety lighting. Passageway lights and signs signifying an EXIT are imperative parts of any emergency-lighting framework. Without properly installed or operable lighting, building occupants may be unable to navigate their way to safety, resulting in injuries or loss of life.
Peninsula Fire Protection sells, services, and installs electrical and non-electrical emergency lights, illuminated exit signs and emergency-backup lighting that powers on during blackouts. These fixtures can be installed in a combination that meets fire code and the safety needs of occupants.
For fifteen years we have provided emergency lighting and signs to keep San Francisco and the greater Bay Area NFP 101 (Life Safety Code), UBC (Uniform Building Code) and OSHA compliant.
OSHA Code of Federal Regulations
Requires adequate and reliable illumination for all exits
Requires proper maintenance to assure that exit lighting is in continuously proper operating condition
NFPA 70 – National Electric Code
Requires specific illumination and performance of emergency and exit lights
Provides functional standards for battery-powered emergency and exit lighting
NFPA 101 – Life Safety Code
Requires a monthly inspection of all emergency and exit lighting systems
Requires an annual test of all emergency and exit lighting systems
International Fire Code
Requires proper illumination of means of egress
Requires assurance that emergency and exit lighting systems will provide illumination for at least 60 minutes
Remember: Code laws require each facility to complete a 30 second test of their emergency lighting system each month and maintain the paperwork on the tests. A 90-minute, lights-out test once a year is also mandatory to remain code compliant. Code Laws are not negotiable, and fines for a faulty or untested system are expensive.
For a free, no-obligation, on-site assessment of your safety lighting and exit signage needs call 1-877-347-3991.