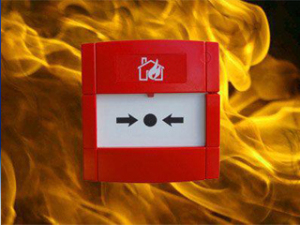 Fire Alarms and Smoke Detectors
Peninsula Fire Protection believes that the foundation of every fire protection plan is the alarm system, which provides clear, and audible warning in case of fire. We've been in the industry long enough to know every second counts toward minimizing property damage and loss of life, a properly installed and maintained fire alarm system increases the chances of saving both.
What kind of fire alarm system is best?
Before we can recommend a fire alarm system we need to know a few details about your fire protection needs. Peninsula Fire Protection provides clients with photoelectric or ionization fire detection equipment in residential, commercial, and industrial establishments. We believe the system you choose should be responsive, dependable and operable; designed to grow as you do.  Peninsula Fire Protection recognizes the diversity of our clients; we provide a free, no obligation, on-site assessment to ensure that the products we sell fit your needs.  Please call 1-877- FIRE-991 to schedule yours.
What about fire codes?
For every situation there is a code, and for every code, a situation. National and state fire codes change frequently as does the technology used to protect your business or residence. Peninsula Fire Protection meets NFPA 72 (National Fire Alarm Signaling Code) and California fire code standards which exceed the national standards.
Our Fire Alarm Guarantee
We sell the best fire detection and alarm systems in the industry, manufactured by the brands entrusted to minimize the loss of life, and property in San Francisco and the greater bay area.
We agree with Section 13114 of the Health and Safety code which states that we will not sell, install or distribute, fire alarm equipment that has not been approved by the California State Fire Marshall.
We maintain, inspect and service every fire alarm and detection system we sell.
We are a member in good standing with the NFPA.
We are licensed and bonded to provide residential, commercial and industrial fire alarm sales and service.
For 15 years Peninsula Fire Protection has been selling and servicing fire alarm and detection systems in the bay area including the cities of San Francisco, Fremont, Oakland, Hayward, Redwood City,  San Jose, San Mateo and San Rafael.
More on Fire Alarms (Addressable Systems)