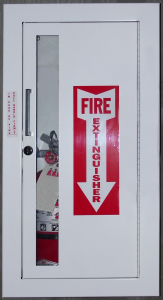 The first fire-extinguishing device was manufactured in 1723, and they've been saving lives and property since then.
A 2010 study by NFPA (National Fire Protection Association) reported that on-site portable fire extinguishers successfully mitigated 80% of fire incidents. That would mean of 224,000 fires, roughly 613 each day were extinguished quickly, before catastrophic loss could occur. In nearly 60% of these cases, quickly controlling the blaze with a fire extinguisher meant that the fire department did not need to be called.
The statistics are staggering. More than 600 times each day, the often-overlooked red can on the wall saves the lives and property of safety-conscious building owners. The old adage of an ounce of prevention being worth a pound of cure is certainly true when talking about fire extinguishers.
The fire extinguisher sales and service industry has certainly come a long way since 1723. Fire extinguishers are now classified by type, specifically by the type of fire they extinguish and regulate by code enforcement authorities across the country.
Peninsula Fire Protection has proudly served the fire extinguisher needs of the city of San Francisco and the greater bay area for more than fifteen years.
How Fire Extinguishers are Made
Schedule a free on-site consultation to discuss your fire extinguisher needs by calling 1-877-347-3991 today!